Hotels Looking Toward Updated Technology to Gain a Competitive Edge
Now more than ever, the hospitality industry is focused on improving the customer experience with hotel in-room technology. Overall findings from Hospitality Technology's 2016 Lodging Technology Study, produced in partnership with the University of Nevada Las Vegas, revealed that 54% of hotels planned to invest more in technology in 2016 than they did in prior years, and the average hotel technology budget was expected to top six percent of revenue.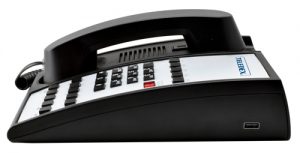 A recent survey conducted by Choice Hotels International, Inc. indicated that Americans will likely increase travel spending in 2017. But, while American consumers' willingness to spend on travel may have increased, in the extremely competitive hospitality industry, hotels must identify ways to stand out from the competition and attract repeat business. Hoteliers must objectively assess the appeal of their guest room experience to ensure alignment with traveler expectations, especially those of Millennials, who are not driven by the same travel needs and desires as other generations.
EarthBend Distribution vendor partner Cetis, Inc., manufacturer of Teledex®, TeleMatrix®, and Scitec® brand analog and VoIP hotel telephones, understands how important technology innovation and adaptation is to the hospitality industry. Their Teledex D Series and TeleMatrix 3300 Series hotel phones set the bar for modern, functional and attractive engineering design.
The Teledex D Series, a contemporary redesign of the classic Teledex Diamond, the most popular hotel phones in the world, features a fresh design footprint, ergonomic open handset, optional built-in guest smart device USB charging ports, and a faceplate that is fully interchangeable with existing Diamond room phones.
Millions of established Diamond Series owners may transition to D Series by simply transferring their existing Diamond faceplates, or opt for new faceplates. Available in single or two-line speakerphone and non-speakerphone models, hoteliers may choose optional USB charging ports, and up to 10 programmable guest service keys. Patented OneTouch voice mail retrieval technology is also a standard feature on speakerphone models.
The TeleMatrix 3300 Series phones are beautifully engineered to fit the color, decor, and technical requirements for hotel guest rooms, lobby, and common areas. The phones are available in single and two-line analog and VoIP corded configurations with seven optional standard handset accent colors, a convenient PassThrough RJ45 Ethernet port, and patented OneTouch voice mail retrieval. Plus, matching 3300TRM trimline is available for bathroom and common area applications.
Contact your EarthBend Distribution Sales Representative for additional product details or to request a quote.