Spectralink Wireless Telephony Solutions
Spectralink leads the enterprise mobility market with the industry's most deployed wireless solution portfolio optimized for mission-critical healthcare, retail, manufacturing and hospitality applications.
What sets Spectralink apart? Things like superior voice quality, connectivity and enterprise-grade durability and reliability. Over 500 partners worldwide delivering an end-to-end solution together with UC telephony, Wi-Fi and DECT mobility solutions and industry-focused applications. And Spectralink has the only mobility solutions with native integration with Microsoft® Skype for Business®.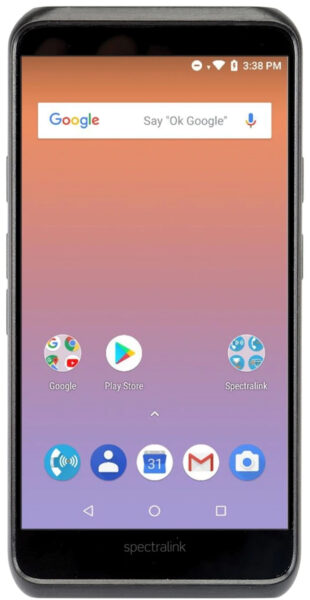 Versity Smartphone Series
Empowering the Mobile Workforce
The Versity (95 and 96-Series) enterprise smartphones are redefining enterprise mobility. With the look and feel of a favorite personal phone and all the functionality of an enterprise-grade device, these next-generation solutions offer unmatched durability, streamlined workflows and 24×7 communications for any mobile workforce.
Versity offers best-in-class Wi-Fi coverage to keep employees connected.
Proprietary VQO technology ensures crystal clear communication and superior voice quality while roaming, with echo and noise cancellation.
Versity delivers uninterrupted communication around the clock, giving workers constant access to the data and teams they need.
True hot swappable batteries enable zero downtime, even while the phone is in use.
Open, Android platform helps you keep pace with new mobile technologies.
Integration with the industry's largest ecosystem of application partners supports your business workflows.
Only 12.2 mm thick, Versity delivers the sleekest, lightest enterprise smartphone on the market.
Durable, IP68 rated. Resistant to dust,drops and liquids, it helps achieve optimal performance in the harshest environments.
Transforming Workflows with Mobile Unified Communications
With market-leading HD voice quality, durability, broad telephony and WLAN interoperability, the Spectralink 84-Series Wi-Fi enterprise solution delivers a superior user experience with Spectralink VQO (Voice Quality Optimization). The 84-Series is powered by UC software that provides full integration with all major SIP call platforms, including Microsoft Skype for Business®, Cisco call servers and others.
The 84-Series delivers high-quality, secure communications to meet the needs of mobile workers in industries such as healthcare, retail, manufacturing and hospitality – empowering them to stay connected and work more efficiently throughout their workplaces.
The 84-Series includes:
8440 – Baseline VoWLAN product with enterprise-grade onsite voice mobility
8441 – VoWLAN product with enterprise-grade onsite voice mobility with SAFE feature
8453 – Adds an integrated barcode reading capability
What advantages does the Spectralink 84-Series provide?
Seamlessly integrates with third-party, industry-focused applications, as well as XML applications
Combines a mobile phone, pager, two-way radio and barcode scanner into one versatile device
Leverages an existing wireless LAN infrastructure for voice and data applications