New Minuteman Entrepid UPS Series offers automatic voltage regulation and a compact design
Last month, Minuteman announced the release of the Entrepid UPS Series, the latest in a line of uninterruptible power supply products, featuring a variety of features and capabilities.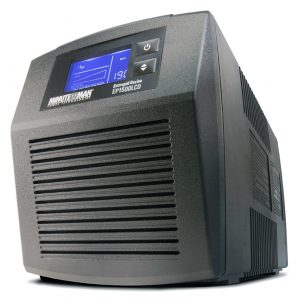 Designed to eliminate downtime and costly service calls, this new UPS's compact height and width makes it an ideal solution for applications where space is tight. This can include crowded telephone and network closets, security devices, POS systems, and much more.
The Minuteman Entrepid Series UPS provides users all the features usually available in higher-priced UPS products to protect your valuable equipment: automatic voltage regulation, spike and surge protection, and battery backup, all in a surprisingly compact package.
The Minuteman Entrepid Series UPS is a compact tower featuring automatic voltage regulation and an informative LCD display that keeps users informed of power and unit status. Six battery/surge outlets along with two surge-only outlets ensure a connection for every device in the system, and phone/fax/network surge protection is also included. USB communications make management simple thanks to free SentryHD software, available here.
The Entrepid UPS Series is available now from EarthBend Distribution, contact your EarthBend Sales Representative for more information.